Dustin Pluth – Instructor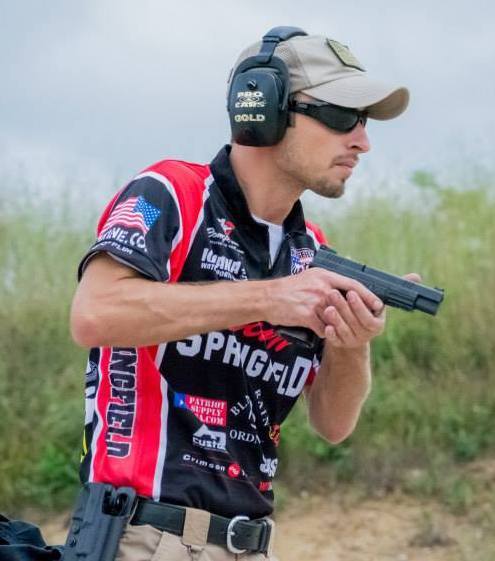 I started shooting competitions in 2009 and the shooting bug got me from the start.
Shooting everything I could, every weekend I could. I wanted to get all the certifications that I could so I took classes and training under some of the sports top instructors helped me get to be at the level I am at today.
I still try to take classes or squad up with the top professionals when I can to gain any knowledge from shooting with them. I have trained with LEO and the military on reactive shooter engagements as well.
From there I went to work in the firearms industry for the past 10+ years. Working with companies both in the marketing, manufacturing side and the retail side.
When I'm not working I'm spending time with my awesome teenage daughter and family!
-Team Springfield Armory
-Team Rise Armament
-Xtreme Tactical Defense VP and instructor
-7s Training owner
-NRA Instructors' Pistol Shooting Course
-NRA Basic Pistol Course
-International Defensive Pistol Association (IDPA) Safety Officer & Match Director
-United State Practical Shooting Association (USPSA) Range Officer
-Concealed Carry Weapon (CCW) permit holder
-Sponsored competition pistol, rifle, 2Gun and 3Gun shooter, placing top 5 in IDPA.
-Classes from top level shooters/tactical instructors from all over the country
-CCW, Tactical, and Competition shooting instructor
-United States Concealed Carry Association (USCCA) Instructor
-Retail firearms sales experience, law and 4473 form knowledge
-CPR, AED, First Aid
-United States Army Tactical Combat Casualty Care (TCCC) & Combat Lifesaver (CLS) from Master Sergeant Robb Mourton & Tactical Care Concepts (TCC)
-Chris Costa's Costa Ludus Handgun Elements Theory 1 & 2 (HET1 & HET2) and Carbine Elements Theory 1 (CET1)
-Wes Doss's Light, Sight, Lasers
-Ron Holmes (Instructor One) Pistol Shooting Class
-Randi Rogers's Competition Shooting
-Rob Pincus's Advanced Pistol Handling
-SABRE Law Enforcement Aerosol Projectors Instructor
IDPA, USPSA, 3 Gun Competitive Shooter.
2011 Season:
USO Monster Match 2011 – 3rd ESP/Production/MM
2012 Season:
AR State Championship IDPA 2012 – 3rd ESP/MM
IL State Championship IDPA 2012 – 4th ESP/MM
MO State/Backstoppers Challenge IDPA 2012 – 3rd ESP/MM
Tri-State Championship IDPA 2012 – 2nd ESP/MM
USO Monster Match 2012 – 4th ESP/Production/SS
Music City Cup 2012 – 9th ESP/SS
2013 Season:
Racknsack AR IDPA 2013 – 5th ESP/SS
MO State/Backstoppers Challenge IDPA 2013 – 4th ESP/SS
IL State Championship IDPA 2013 – 7th ESP/SS
IDPA Nationals at USSA Tulsa 2013 – 16th ESP/SS
KS Sunflower Shootout 2013 – 5th ESP/SS
Music City Cup 3 2013 – 2nd (1st) ESP/SS – With a bump to Expert
Nordic Components Practical Shotgun 2013
Black Rain Ordnance Walking Dead Midnight 3Gun – 81 of 163
Brownells Gateway 3Gun – 14th Tactical Limited