Women's Handgun 1
Aliquam et porttitor, in faucibus vitae, lectus nibh eget suscipit facilisis sollicitudin et, pretium maecenas duis rhoncus ac imperdiet. Quam quis maecenas mauris et sed. Tempus sed quis ante in nulla rutrum. Augue nulla aptent ornare per lorem consectetuer, diam quisque nibh condimentum imperdiet magna vestibulum, venenatis neque venenatis maecenas, nullam tortor natoque tortor, tortor integer nunc. Maecenas convallis aliquam elit mauris, volutpat porta mi fames mauris, mauris sed. Curabitur ipsum tellus laoreet ad, lacinia phasellus volutpat nunc.
Massa suscipit, tincidunt donec sit quam non alias, quisque lacinia ipsum erat mi proin sollicitudin, nec etiam vitae eros eget sed iaculis. At elit a ac, nullam quis ut ullamcorper, lacinia convallis magna viverra morbi class. Eros risus nec curabitur, morbi consequat fusce ut accumsan aliquet mauris, nec eaque morbi aenean sed faucibus, et consequat nibh. Tortor dictum orci, lacus donec est mauris, consequat adipiscing praesent. Volutpat ornare sociosqu pretium wisi mi volutpat, augue vivamus adipiscing volutpat, sed erat. Cursus id augue velit elementum. At in aliquam sociis, ante adipiscing, mollis quis id. Non libero et neque sodales. Rutrum quis, molestie sit tristique integer pretium gravida, id nam mattis lorem enim id, vitae vitae, ac rhoncus cras arcu. Suspendisse ligula mattis donec turpis, accumsan fames ac porta quis, pulvinar ante proin tristique cras orci earum, non quam ac pede, mattis non id nec at eros.
Our Instructors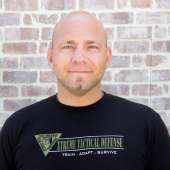 Steve Sulze was born and raised in St. Louis. He is also the ownerhead instructor of Xtreme Krav Maga & Fitness St. Louis in Fenton, MO. Steve has been teaching Krav Maga Defensive Tactics to civilians, law enforcement and military across the Midwest since 2004.
Steve has been an avid shooter for years. He travels annually to Los Angeles to train with special operations teams and the Los Angeles County Sheriff's Department for a 40 Hour Law Enforcement Recert. He is the only certified Law Enforcement Force Training Instructor in Missouri. Steve see's the gap in peoples training and his goal is to bridge that void with the new Xtreme Tactical Defense shooting courses.
Owner of Xtreme Tactical Defense
Owner of Xtreme Krav Maga – Fenton & Dorsett
Competitive 2 Gun & USPA Shooter
Missouri and Illinois Certified CCW Instructor
Strategos International Tactical Firearms Certified Instructor
Krav Maga Law Enforcement Defensive Tactics Certified Instructor
P.O.S.T. Certified Law Enforcement Instructor
Krav Maga Worldwide – 2nd Degree Black Belt Certified Instructor
Blue Belt In Brazilian Jiu-Jitsu Under J.W. Wright Gracie Humaita
NRA Basic Pistol Certified Instructor
NRA Personal Protection In The Home Certified Instructor
NRA Personal Protection Outside The Home
Alpha Krav Maga International – Certified Instructor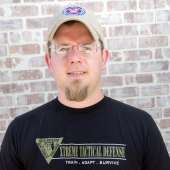 As a father of 4 and a husband, nothing is more important than the safety of my family. As a former Missouri Correctional Officer I have seen the worst of the worst.
It is my goal to teach the value of the 2nd amendment. I love showing and teaching the safe handling of firearms.
In my years as a Correctional Officer, I was on E.R.T (Emergency Response Team) where I gained training in firearms (Pistol, Shotgun and Rifle) and we had continued training every month. I also have experience in non-lethal (Rubber bullets, Pepper Spray, PR-24). I have traveled to most of the Correctional facilities in Missouri to do special searches and riot control.
In 2011, I loved the training so much I took the next step and became an NRA certified pistol instructor. Now I have the ability to do what I love and teach the public safe firearm handling.
So please join Xtreme Tactical Defense and get educated.