Description: Missouri CCW – Conceal Carry Permit Class is designed for people who wish to obtain their Missouri concealed firearms permit and\or learn the basics of firearm safety. The course goes over basic handgun safety and range rules, proper firing techniques, Missouri laws pertaining to concealed carry and live-fire at the range. The morning session of the class will take place in the classroom.
Live-fire at the range will be conducted in the afternoon. Students are required to fire 20 practice rounds and 20 qualification rounds from either a revolver or semi-automatic.
The range is located indoors. Certificates are issued upon successful completion of the course.
Length of course: 8 hours. The class will meet from 8:00 a.m. to approximately 5:00 p.m.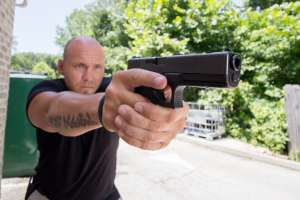 What will I learn:
Learn the Basics of Marksmanship
Practice combat accuracy for a self defense situation
Practice drawing from a holster
Get an understanding of ammunition and basic ballistics
Learn how to pick the best gun for you and your situation
Become familiarized with semi-automatics and both single and double action revolvers
State and Federal Firearms Laws
Missouri Conceal Carry Laws
Shooting Qualification
What will I receive:
CCW Certification of Completion
Copy Of Lecture Material
USCCA Membership Discount
Top Notch training from Safe, Experienced, Certified Instructors
What you will need:
For those that have your own firearm, bring your unloaded and cased pistol and a minimum of 50 rounds of factory ammunition. If you have a gun you intend to use for personal defense, we recommend you bring this gun for the course.
*Please leave firearm\ammo in your vehicle until the live fire section of the course.
Approx 30 minutes will be provided for lunch. Students may eat at local restaurant or bring a lunch.
If you do not have your own firearms to use for the course, you may rent one of ours which includes ammunition.
Hearing and eye protection will be provided at no charge if needed.
*NO live ammunition allowed in the classroom at any time.*
---
A certificate of firearms safety training course completion may be issued to any applicant by any qualified firearms safety instructor. On the certificate of course completion the qualified firearms safety instructor shall affirm that the individual receiving instruction has taken and passed a firearms safety course of at least eight hours in length taught by the instructor that included:
Handgun safety in the classroom, at home, on the firing range and while carrying the firearm

A physical demonstration performed by the applicant that demonstrated his or her ability to safely load and unload a revolver and\or a semiautomatic pistol and demonstrated his or her marksmanship with both

The basic principles of marksmanship

Care and cleaning of concealable firearms

Safe storage of firearms at home

The requirements of this state for obtaining a certificate of qualification for a concealed carry endorsement from the sheriff of the individual's county of residence and a concealed carry endorsement issued by the department of revenue

The laws relating to firearms as prescribed in this chapter

The laws relating to the justifiable use of force as prescribed in chapter 563, RSMo

A live firing exercise of sufficient duration for each applicant to fire a handgun, from a standing position or its equivalent, a minimum of fifty rounds each with a semiautomatic pistol and revolver at a distance of seven yards from a B-27 silhouette target or an equivalent target

A live fire test administered to the applicant while the instructor was present of twenty rounds with both a semi automatic pistol or revolver from a standing position or its equivalent at a distance from a B-27 silhouette target, or an equivalent target, of seven yards.

Course Instructors
Josh Boxx
As a father of 4 and a husband, nothing is more important than the safety of my family. As a former Missouri Correctional Officer I have seen the worst of the worst. It is my goal to teach the value of the 2nd amendment. I love showing and teaching the safe handling of firearms.