Q: What is different about Xtreme Tactical Defense from a normal shooting range?
A: Paper targets don't move or fight back! Our training courses were designed by self defense experts, law enforcement and military special operations units. Our instructor team is comprised of highly experienced veterans of military and law enforcement and self defense experts. The techniques and methods have been proven effective under combat conditions.
Unlike a standard shooting range we train in an open dynamic environment that realistically simulates a real world threatening encounter from pre-fight indicators thru the fight, and post fight legalities.
A CCW permit makes you legal to carry a firearm and gives you the right – but NOT the ability; Xtreme Tactical Defense courses can help make you capable of using it to adequately protect yourself and others.
Q: What is the minimum age for participants?
A: Participants in the Beginner, Intermediate and Advanced courses must be at least 18 years of age, or 15 years of age with a parent or guardian attending the same class. Participation in Combat PistolCarbine courses must be at least 18 years of age.
Q: Do I need to bring my own equipment and ammunition?
A: We suggest you bring your own equipment and ammunition but XTD does offer rental firearms, accessories, and ammunition for sale.
Please contact us for gear recommendations. Rental equipment list is available on our Gear Rental page.
Q: What do I need to bring to my course?
A: We provide a checklist for our courses. Please look at our Tactical Gear List page.
Q: How long is my concealed carry permit valid?
A: Effective January 1, 2014, sheriffs will issue concealed carry permits..
Q: What if I fail to renew my permit, is there a grace period?
A: Yes. There is a grace period of six months; but, there is also a $10 per month late fee assessed by the sheriff.
Q: What happens if a disqualifying fact is discovered after the permit is issued?
A: There are provisions for the sheriff to revoke a person's permit. The Sheriff will notify the Missouri Uniform Law Enforcement System in the event a permit is revoked.
Q: Is the list of carrying concealed permit holders a public record?
A: No, it is private information. Only law enforcement will have access to that information.
Q: How does this law affect the old peaceable journey exception?
A: It does not. You may still carry a concealed weapon in your vehicle on a continuous peaceable journey through the state. This includes Missourians whose trip begins and/or ends in Missouri.
Q: What if I'm stopped by law enforcement? Any suggestions?
A: Where possible, it's best to stay seated in your vehicle, with both hands on the steering wheel. Do not reach to an area where your firearm is concealed without first advising the officer that you possess a firearm in your vehicle or on your person.
Q: Does a person carrying a weapon in a vehicle also have to have a permit for the gun?
A: No. A weapon may be carried anywhere in a vehicle, even concealed on the person, under the vehicle exception.
Q: Does a concealed carry permit allow a holder to carry a concealed pistol on a public bus?
A: No. Only law enforcement, commercial security personnel, and persons with consent of the owner are exempt from this provision. (See Section 578.305, RSMo.)
Q: What if I fail to update my permit when I move or change my name?
A: A concealed carry permit shall automatically become invalid if the holder has not notified the sheriff of the changes within 30 days of the change.
Q: May I take video and pictures.
A: Yes, cameras are welcome; however, please get your instructor's permission first.
Q: What if I miss or reschedule my class?
A: There is a $25 cancellation\reschedule fee, however your course credit is always valid.
Possession of a firearm in a vehicle on the premises of any of the below-listed locations is not prohibited so long as the firearm is not removed from the vehicle or brandished while the vehicle is on the premises. Carrying a concealed firearm in any location specified above is not a criminal act. However, you can be denied access to the premises or may be removed from the premises for doing so. If a peace officer is summoned:
In accordance with Section 571.107 RSMo., you may not carry a concealed weapon in the following places:
• any police, sheriff, or Highway Patrol office or station without consent
• within 25 feet of any polling place on Election Day
• adult or juvenile jail or institution
• courthouse or facilities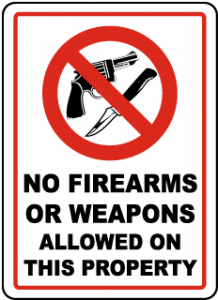 • any meeting of a government body (except by a member with a concealed
carry permit)
• bar without consent
• airport
• where prohibited by federal law
• schools
• child care facility (without consent of manager)
• riverboat gambling facility
• amusement parks
• any church or place of worship; without permission of minister or person representing religious organization
• any sports arena or stadium (with seating for more than 5,000)
• hospitals
• private or public property where posted.
• Upon the first offense, you can be cited and fined up to $100.
• If within six months, a second offense occurs, you can be fined up to $200, and your concealed firearms permit can be suspended for a period of one year.
• If within one year of the first offense a third citation for a similar violation is issued, you may be fined up to $500, and your concealed carry permit revoked. If your concealed carry permit is revoked, you are not eligible for the permit for a period of three years.