Active Shooter Defense Training
Active Shooter – "An incident in which an individual actively engages in killing or attempting to kill people in a confined and populated area."
– Dept. of Homeland Security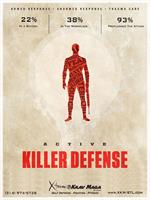 This unforgettable, intense and FUN training, you will learn how to deal with an armed assailant who is actively shooting in various environments. Know when to run, hide, barricade or fight back.
Learn how to construct a survival mindset, work within confined areas, evade and barricade, take down attackers from various angles, deal with first responders, and much more.
In light of all the tragic shooting incidents, we at XKM feel that it is important to offer this potentially life-saving training to our community.
September 2019
(2 Day Course)
Our certified expert team will come to your business, develop a plan, train your staff and help implement.
Site Survey, Communication, Mindset, Awareness, Prevention
Threat Response: Run . Hide . Fight – Plan Development
Personal Weapons, Combatives & Self Defense
Handgun Defenses
Long Gun Defenses
3rd Party & Hostage
First-Aid\Medical
Drills and Scenarios